Residential properties are enhanced by the construction of retaining walls. These brick structures add more than aesthetic appeal to the property. They serve many functional purposes, too. Homeowners planning on building a retaining brick wall will find the following steps useful.
The functional purposes of retaining walls are numerous. Retaining brick walls clearly mark the boundaries of a home. The sloping yard around a property is more usable when retaining walls are properly installed. The brick walls also manage water drainage and help with soil erosion.
Enjoyment of the patio is enhanced by building retaining brick walls. Homeowners have several options when they choose to transform an outdoor area into a livable, functional outdoor space: fireplaces, seat walls, pillars, fire pits, garden walls, and grill islands.
Another common use for retaining brick walls is raised planting beds. Terraced areas can be created and utilized for planting bushes and flower beds. Especially if the property is built on a slope, the retaining brick walls create flatter spots for garden use.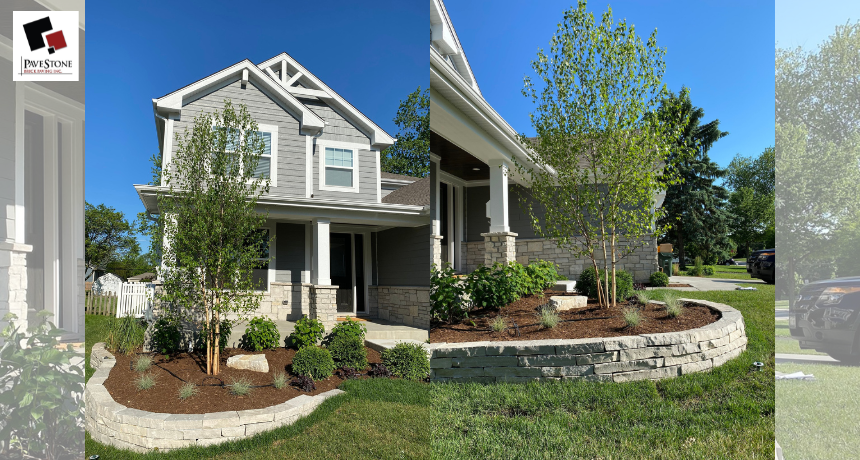 Homeowners see the benefits and uses of building a retaining brick wall. When opting to install one, it's important know it can be accomplished as a DIY project. However, the installation can be tricky; retaining walls must be sturdy in order to resist horizontal soil pressure around differing ground levels.
How thick should a retaining wall be?
Prior to starting the project, establish the correct thickness of the wall. The structure should be at least 8.4 inches thick. The wall must be bonded or consist of two separate brick skins secured together. This recommended thickness is strong enough to resist minimal water pressure.
What is the best base for a retaining wall?
Building a sturdy retaining brick wall requires building an equally sturdy base. Use angular, sharp-edged particles, like crushed gravel. The assortment of sizes in this type of gravel ensures maximum compaction. Round rocks, like pea gravel, dislodge under pressure—and the wall will fail.
Step 1: Dig a Trench
Once these important factors are considered, start building the retaining brick wall. The first step is to dig a trench. The width of the trench is determined by the size of the base of the wall. Generally, the trench should be 3 to 4 times wider than the wall's base.
The trench should be level and compacted so that the retaining brick wall will be stable and well-placed. The bottom layer of bricks will be buried about 1 inch deep for every 8 inches of wall height. Following these measurements ensures the strength and stability of the wall.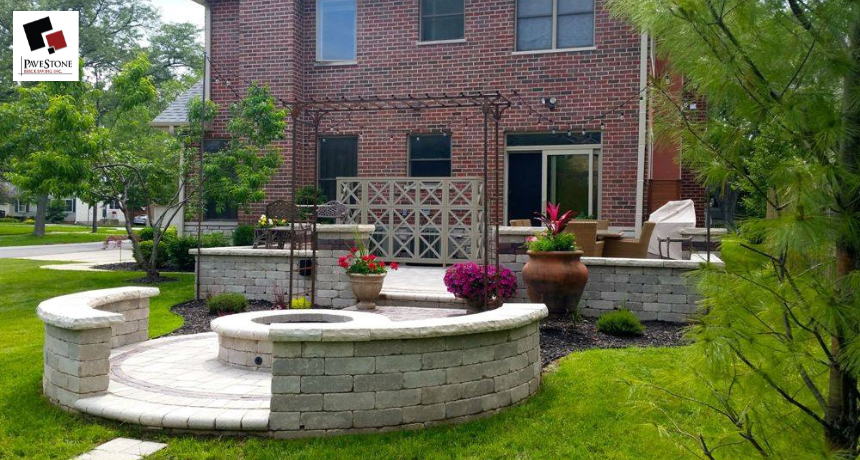 Step 2: Add Base Material
Layer the crushed base material discussed earlier over the bottom of the trench. Compact the crushed gravel by hand or utilize a mechanical compactor. Compacting the base material is critical. The base should be so compact and level that it does not shift when walking over it.
A stabilizing base material for the installation of a brick retaining wall is cement. Footing for the retaining wall can be created by tying together and laying steel reinforcing bars in the trench. Mix concrete and spread it over the footing trench. Give the cement time to cure and dry.
Step 3: Lay the Bricks
Mix mortar and spread a thin layer over the cement footing. Lay the bricks about a half-inch apart and in a straight line. Adding a chalk line on top of the cement footing can be especially helpful for ensuring the bricks are laid in a straight line.
Apply mortar mix to fill in the seams between the aligned bricks. Pack the mortar tightly and ensure it reaches the upper surface of the first layer of bricks. Spread another layer of mortar. Layer a second row of bricks, overlapping the brick seams of the first layer.
Step 4: Add a Cap Row
Continue laying the bricks until the desired retaining wall height is achieved. Finish off the installation with coping stone bricks, which cap free-standing walls and protect them from weather and erosion. Choose F2, S2 bricks, which indicate frost-resistant, low-soluble salts, to minimize water damage.
Install the coping stone bricks in the same way as the lower bricks. After the coping stone bricks are added, remove excess mortar from the surface of the top layer of bricks. Using a wire brush, comb the entire surface of the brick wall to eliminate surplus mortar.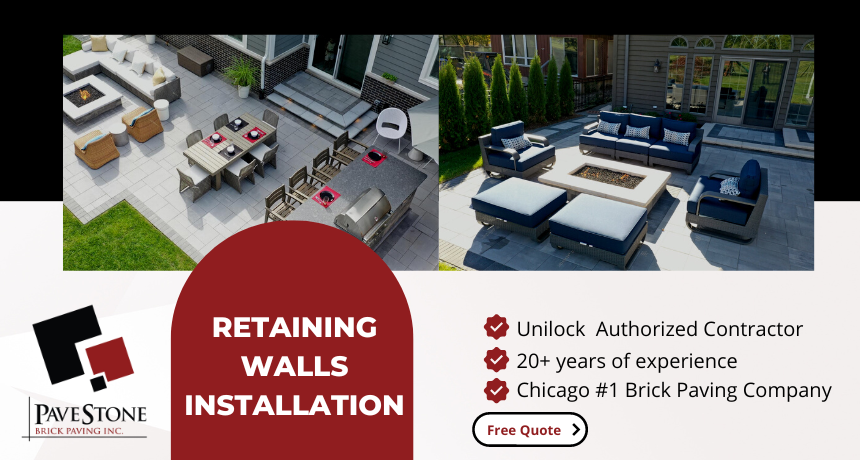 A tip for building a retaining brick wall that will not fail is to regularly check that each brick layer is level. Installing a retaining brick wall is a labor-intensive endeavor, so homeowners may prefer the expertise of a professional retaining wall contractor, like Pavestone Brick Paving, Inc.
We are skilled in designing and installing retaining brick walls that beautifully accentuate your outdoor living space. Our contractors utilize Unilock brick pavers. The brick pavers are available in a wide range of textures, colors, styles, and sizes to fulfill your vision for a unique, attractive design.
Pavestone Brick Paving, Inc, can also accommodate homeowners who prefer retaining stone walls in lieu of brick walls. Our natural stone options include granite, sandstone, limestone, and bluestone. Retaining stone walls add a bold, rustic look to your outdoor areas.
Design is key to ensuring the retaining walls are built to meet your exact specifications. Our specialists work with you to choose design elements, such as location, curvature, materials, and other features, like pillars and lights. You'll preview a 3D model of the design before installation commences.
Retaining walls are highly durable, which means they last for years. However, like any structure exposed to the elements, they often undergo wear and tear. We provide comprehensive maintenance services, ranging from re-leveling dislodged pavers to seal coating and power washing to restore your walls.
Homeowners trust Pavestone Brick Paving, Inc, for our professionalism and dedication to enhancing the hardscape of the properties we work on. We are available to design, install, repair, and maintain retaining walls in Des Plaines, Illinois, and the surrounding suburbs. Call today to learn more about our services at (847) 895-7004.