Life is meant to be enjoyed outdoors. With Memorial Day more or less marking the official start of summer grilling season, outdoor kitchens have been a popular trend since the late 1990s. However, finding the right design can be tricky with a tight budget, but it is not impossible when you have the right tips and guidelines. As the best chefs know, you don't need ample space to make a gourmet meal; just a well-laid-out and organized plan can help you have the inexpensive outdoor kitchen of your dreams.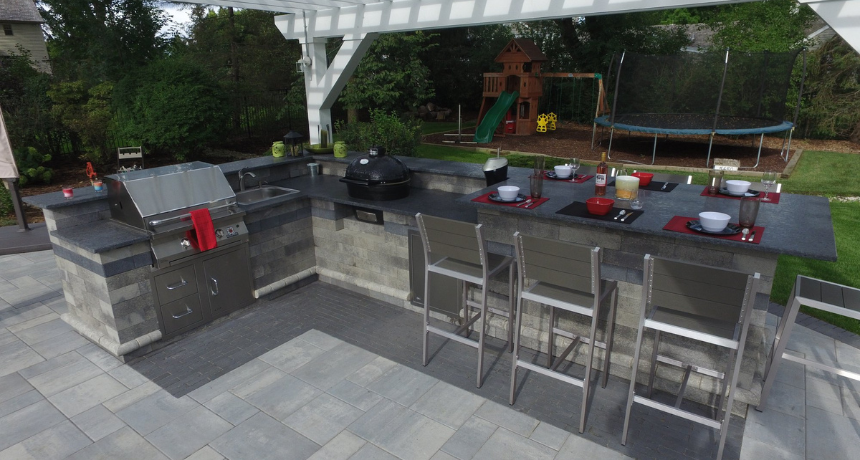 How to build an outdoor kitchen on a budget?
After spending hundreds or thousands of dollars on an indoor kitchen, you will be in a dilemma to spend the same amount for an outdoor kitchen. Thus, it may leave you wondering, "How to build an outdoor kitchen on a low-cost budget?' When using an outdoor cooking area, it is essential to have a multi-functional layout that provides adequate storage, prep space, and other features and amenities besides styling. This saves a significant chunk of money, time, and labor from creating additional space. Another cost-saver is choosing suitable materials, appliances, and furniture to add to the area. Upcycled accents like wood, stone, tile, and poured concrete are the preferred materials for an outdoor kitchen design where you do not need to break the bank.
Our hardscape contractors at Pavestone Brick Paving Inc. have rounded up some of the most creative outdoor kitchen ideas to inspire your next design.
1. Patio kitchen design with a mini fridge and sink:
An open Deck or Patio Kitchen is a great way to utilize the outdoor space, especially during the summer. At a minimum, you will need a built-in grill, sink, mini fridge, and a countertop for food preparation. As we march into the fall and winter months, a fire pit can be an excellent and toasty addition to the space. The grill will be your centerpiece, which can be a gas, wood, or charcoal grill. Accessibility to the fridge and sink will maintain the cleanliness of the space and convenience for the preparer.
2. Outdoor kitchen under retractable canopy roof:
This outdoor kitchen design works best if you have an open backyard or a garden without a patio or deck. Retractable canopies are a simple and effective way to make any outdoor space feel more comfortable by adding an additional shade on the exterior of your wall. Depending on the size of the budget, you can choose any materials to make the retractable canopy. For a low-cost solution, canvas or acrylic synthetic fabrics are more suitable and can be easily mounted on the wall. For small spaces, you can have the grill attached to the wall with some comfortable seating arrangements next to the grill. To complement the look, you can also add biophilic plants or hanging pots.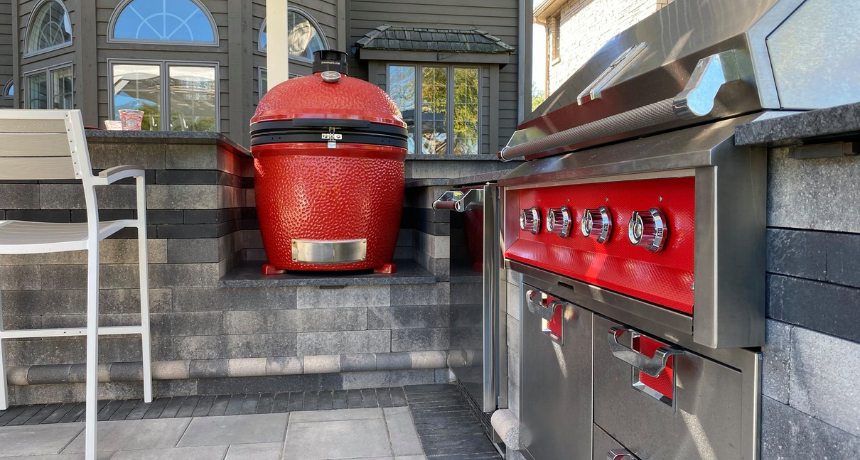 3. Small outdoor balcony kitchen:
Not everyone has a backyard, but if you're an apartment or a condo dweller, you can still dream of having an outdoor kitchen on your balcony. This will be like any rooftop bar experience for your guests, as they can enjoy great city views while eating or chilling. For such small spaces and safety neighbor concerns, portable electric gas or a grill is ideal and the cheapest deal. To add value to your room, you can even add a corner-fitting table, bar stool, or multi-purpose furniture.
4. Turn your sunroom into a kitchen:
Nowadays, houses are built with an additional screen porch or a sunroom. Using your sunroom as a kitchen could be a great way to utilize the space and fulfill your idea of having an open kitchen. This can be your all-season outdoor kitchen as you can weatherproof it. Plus, it will be easier to maintain your appliances and furniture. The size and shape of the room will ultimately determine the layout of this outdoor kitchen space. The bigger the area, the more storage cabinets and elements can be added to the design.
5. Rolling outdoor kitchen:
If you do not wish to assign a designated space for your outdoor kitchen and still wish to have barbecues on special occasions, consider the idea of having your kitchen on wheels. Whether being used near the pool area or in your garden for intimate gatherings, these mobile outdoor kitchens make it easy to host events. The island will be equipped with a built-in cutting board, a multi-purpose gas, a sink, and cabinets below for any storage purposes.
6. Poolside pergola kitchen:
If you're lucky enough to have an outdoor pool in your backyard, chances are that you'll have a pergola too. Another way to set up a budget-friendly outdoor kitchen is to make the utmost use of a Pergola or build one near your pool. The structure creates a unique space for grilling and relaxing right next to the pool. You can then add elements like gas, an oven, swivel chairs, mini coolers, and a bar. You can also mount a TV to watch sports while cooking or chilling by the pool.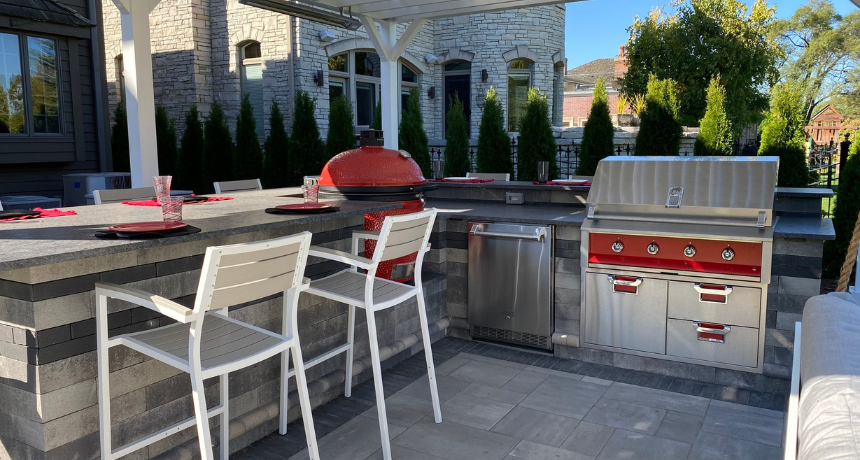 7. Corner rooftop kitchen:
Penthouses commonly have outdoor spaces that offer unrivaled use and enjoyment, ranging from outdoor dining to cocktails and entertainment. If you live in one, then you can make the utmost use of its open space and set up a kitchenette on one of the corners with some seating arrangements to complement the design. Installing an outdoor kitchen right outside the house is convenient and can save a lot of money on electricity and water lines.
Need help in planning your own outdoor kitchen space? Our hardscape contractors are connoisseurs at creating custom-crafted and personally curated spaces designed within your budget. Whether you dream of having a standalone kitchen or restructuring your existing patio space, we promise to exceed your expectations. Chat with one of our outdoor kitchen experts today by calling 847-895-7004.