Homeowners who aim to enhance the appearance or functioning of their outdoor space will consider either landscaping or hardscaping. While the two are related, the projects are entirely different. Here are the primary differences to help homeowners take the right approach.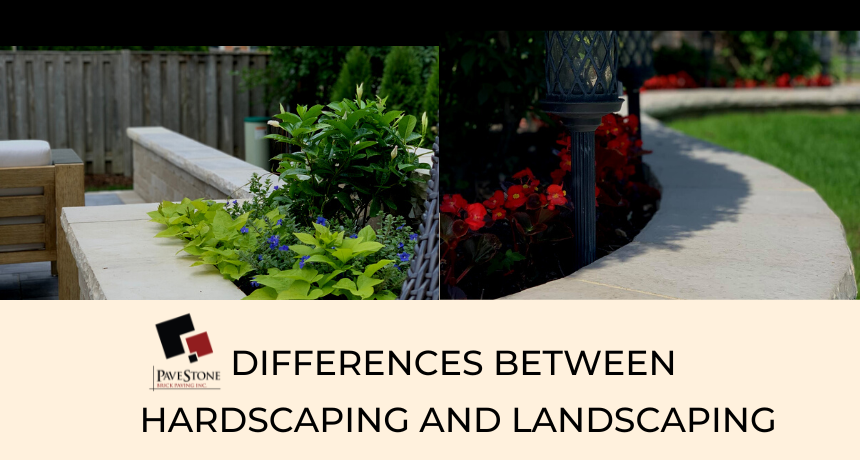 Most homes are designed with aesthetically pleasing landscaping as well as functional hardscaping. Plants, shrubs, and trees growing in the yard are elements of landscaping. On the other hand, the driveway, patio, pool, and deck are considered components of hardscaping.
While hardscaping and landscaping are two separate projects, they usually coexist. For example, a family home may be built with a large patio—which utilizes hardscaping materials—but is surrounded by flowers and plants that improve the hardscape's design—which involves landscaping.
Hardscaping: Installing Non-Living Materials
In a nutshell, hardscaping revolves around the non-living aspects of the home's landscape design. This includes the hard design elements, such as concrete, rocks, bricks, stone, wood, and pavers. As previously mentioned, hardscaping also includes manmade structures, like patios and decks.
Additional design features of a home that require hardscaping materials include the stairs leading up from below the deck and the walkways surrounding the property. Hardscaping materials do not allow plants to grow on them. Plus, they require ongoing maintenance, which can be an expense.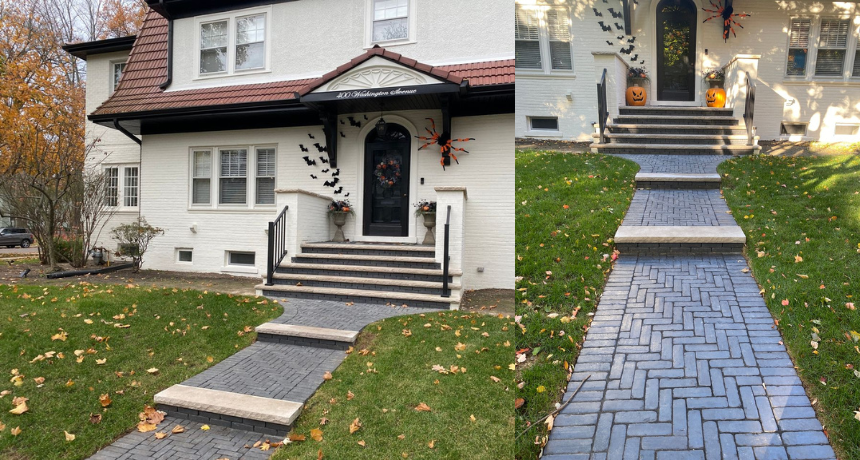 In areas that have undergone hardscaping, the homeowner has the necessary space to entertain guests. Homeowners can host a barbecue on the patio, or guests might relax on the deck in the evenings around the cozy warmth of the fire pit. Hardscaping allows these activities to happen.
Aside from giving the homeowner a place to entertain, hardscaping serves an essential function: it prevents water absorption. The home's boundaries remain protected from weather conditions, such as rain, hose water, and sprinklers, which can degrade the building's exterior over time.
Furthermore, the home's structural integrity is preserved by hardscaping. The foundation is fortified by the brick-and-mortar elements of the home, which protect the yard from daily wear. Fences, another common hardscaping project, define the home's property line and add privacy.
Hardscaping improves runoff and drainage in areas that quickly become flooded with water. Stone, rock, and concrete absorb the sun's rays, which helps to dry the soil around it. As a result, standing water, algae growth, and unwanted pests do not invade the area.
Landscaping: Introducing Living Organisms
Curb appeal is enhanced by landscaping—which is defined as the introduction of living organisms, like plants and flowers. Excellent landscaping has the potential to increase property value. When landscaping is done well, the natural environment is in harmony with the manmade one.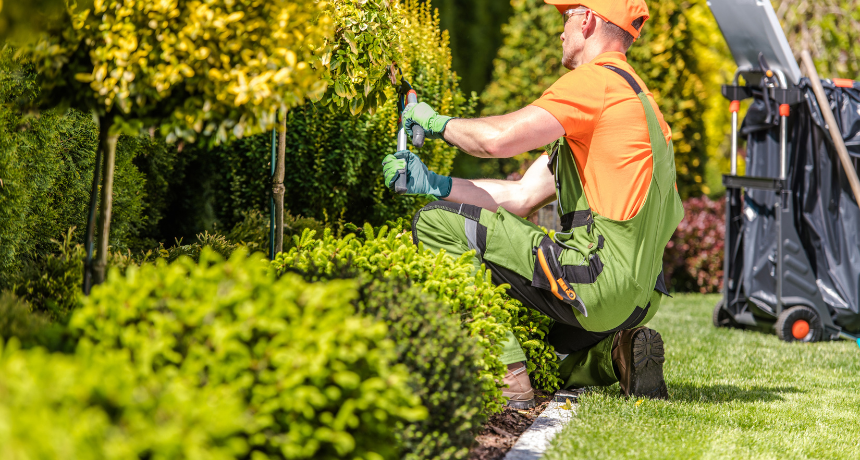 Landscaping includes the natural elements surrounding the home. A well-maintained property is beautified by a lush green lawn, colorful flower beds and neatly trimmed bushes and trees. Homeowners are likely to tackle landscaping projects much more easily than hardscaping tasks.
Like hardscaping, landscaping offers several environmentally friendly benefits. Planting trees in the yard helps fight global warming; the trees absorb carbon dioxide from the air and help to reduce greenhouse gases. A large number of trees means cleaner air in the neighborhood.
Planting certain species of flowers attracts pollinators, like butterflies, hummingbirds, and bees, into the yard. These insects and birds increase the rate of pollination in the garden and help plants thrive. Small animals also build nests and shelters in bushes and trees.
Adding fresh mulch is another landscaping project. Mulch is essential for plants, because it absorbs and retains rainwater, thereby keeping flowers and bushes nourished with moisture even when the temperatures are hot. Gardeners can also add compost, peat moss, and other organic materials.
Unlike hardscaping, landscaping is an ongoing project. Trees must be regularly pruned, and the lawn must be mowed weekly. Homeowners may plant annuals every year since the flowers die at the end of autumn. Fresh mulch must be periodically added to garden beds.
Homeowners utilize a number of tools and equipment to maintain the landscaping. Mowing the lawn requires a lawnmower, and a flourishing garden needs abundant fertilizer. Leaf blowers and trimmers are optional but helpful. Wheelbarrows are useful in transporting dirt and plants.
While hardscaping and landscaping involve the use of different materials, they work together to improve both the functionality and the aesthetics of a property. The main goal is to successfully utilize both hardscaping and landscaping to create an atmosphere that feels natural.
When the hardscaping complements the landscaping, the property becomes visually pleasing. Tending to a flower bed, adding fresh mulch every couple of years, mowing the lawn, and planting ornamental trees are landscaping projects that can easily be done by the homeowner.
But certain hardscaping projects require the services of a qualified contractor, like Pavestone Brick Paving, Inc. We are a highly rated local patio contractor with a team of skilled specialists who will design, build, and install a patio that gives life to your vision.
We'll consult with you to determine the features that most appeal to you, as well as whether to use brick pavers or natural stone slabs. Homeowners are given plenty of options when it comes to pavers, such as style, size, texture, and color. Natural stone slabs are elegant and low maintenance.
A well-functioning and aesthetically pleasing patio starts with good design. Our experts create a full-color, digital 3D design based on your specifications, ranging from shape to colors. Upon your review and approval of the design, we begin the exciting phase of building the structure.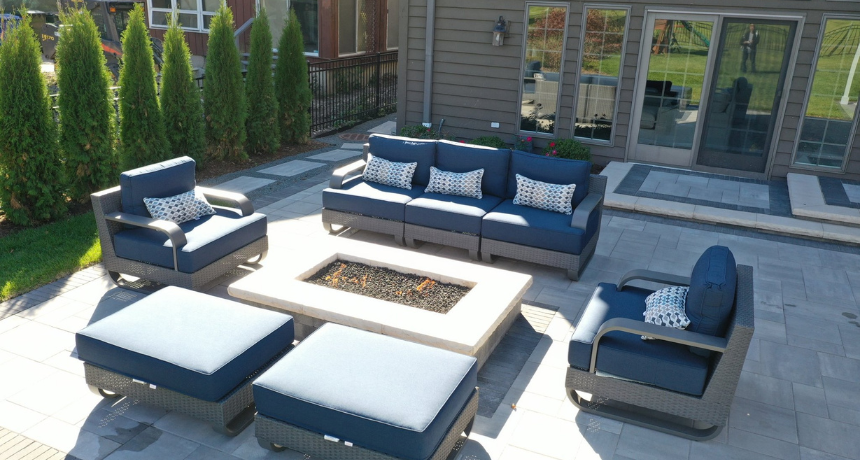 In addition to brick and natural stone patio installation, our experienced crews are available to repair and maintain your patio. While durable, a natural stone or brick paver patio may require restoration upon fading, being exposed to weather or undergoing damage.
Pavestone Brick Paving, Inc, is the preferred patio contractor for homeowners living in Des Plaines, Illinois, and the neighboring north and northwest Chicago suburbs. We offer premium design, installation, and repair services to help you realize your dream of a beautiful patio. Call us today at (847) 895-7004.