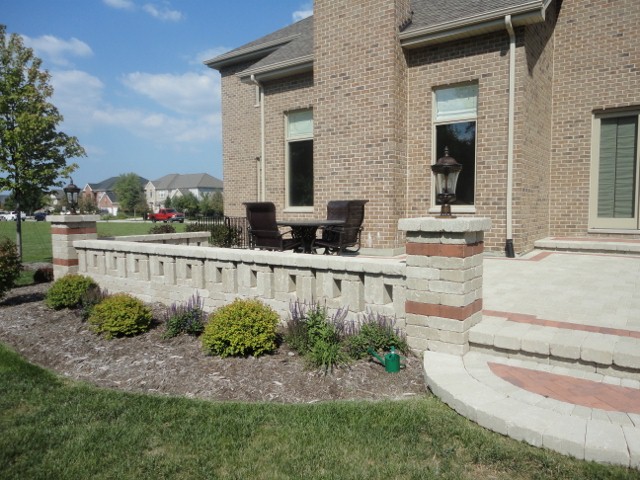 Family-owned, Pavestone Brick Paving, Inc has almost 20 years of experience with designing, making plans and completing all different kinds of brick paving projects. The most common projects have been different kinds of brick patios, walkways, custom driveways and different sizes of retaining walls. We are unique as we do provide our customer's with affordable pricing and beautiful, professional brick paving workmanship. At Pavestone Brick Paving, Inc., we believe in maintaining respect, trust and expertise above anything else. There are the exact principles from which our company was started on. Before we commit to any brick-paving project, we take the time to go over what our client needs, wants and their ideas. This will ensure that their brick patio or brick driveway will go beyond what they expect. Each step of the way, we will explain in detail different brick paving options and how they impact your budget. Whether for your home or your business, Pavestone Brick Paving, Inc. is the name you can depend on for your brick paving projects. Many Northbrook homeowners contact us regarding their brick paving needs to help them prepare for the summer. We can do the same for you too.
Northbrook Brick Pavers
Northbrook, Illinois is home to over 33,000 residents and is a beautiful village. Northbrook is an area that many Chicagoland residents and businesses like to move to every year. Northbrook's convenient location is just 13 miles from O'Hare International Airport and 18 miles from Chicago. Northbrook's median family income is almost $116,000 with almost 32,000 households in the village. Each year, Northbrook residents need home improvements, of which brick paving is the most sought after. You need a professional because brick paving is an art in itself, and you probably don't just trust anyone to pave your brick driveway or patio. When a professional brick paving company is needed for the Northbrook home and business owners are looking, they will call Pavestone Brick Paving, Inc. Not because we are located in Northbrook, but because we are the best at what we do, brick paving. Since the company opened, we have helped many Northbrook home and business owners improve with the addition of our brick pavers because we are the best brick paving company in the industry.
Northbrook Brick Walkways
Pavestone Brick Paving, Inc. has many different brick paving services including specializing in paver installation. Our pavers are always best for commercial and residential use. We do offer a range of brick pavers, a variety of concrete pavers and clay pavers making us much different than other brick paving companies in the area. Our Unilock and Belgard brick pavers are what we highly recommend because they are perfect for any type of brick paving project, they are beautiful and they are durable. Our team is ready to help you design the perfect brick driveway, brick patio or design the best exterior living space. We also offer a wide selection of natural and cultured stones to choose from. Our brick payers are known to last a lifetime and are virtually maintenance free. Have you found yourself putting off getting a new brick patio or driveway? Isn't it time to get what you want? Give us a call today, so we can give you more information about our brick pavers and answer any of your questions regarding our brick paving services. We look forward to help you transform the exterior of your home or business! Call us today!
Northbrook Brick Paving | Northbrook Brick Pavers | Northbrook Brick Patio | Northbrook Brick Driveways