Chicagoland's #1 Brick Paving Company
Have you wanted to transform the outside of your home with an impressive brick or stone patio, driveway, walkway, retaining wall, or outdoor kitchen?  Our professionals at Pavestone can make it happen.
Pavestone is a Unilock and Rochester Authorized Contractor.  We provide the following hardscape and brick paving services using quality paver products from top manufacturers:
OUTDOOR LIGHTING INSTALLATION
OUTDOOR KITCHEN INSTALLATION
RETAINING WALL INSTALLATION
Your Paver Installation Experts
Pavestone Brick Paving, Inc. is a brick paving contractor that designs, installs, and maintains brick paver and natural stone hardscape features including patios, driveways, entrances and walkaways, retaining walls, firepits and fireplaces, grill enclosures, outdoor lighting, and outdoor kitchens. We are a family-owned business that has been serving homeowners and businesses in Des Plaines, IL, and the surrounding north and northwest Chicago suburbs for more than 24 years.
Our professionals will listen to your idea so we can better understand your needs and help with the design and planning. You can expect fair pricing and exceptional craftsmanship as well as a five-year unconditional guarantee on al labor for brick paving, retaining wall, and step projects.
Why Choose Pavestone Brick Paving?
Pavestone Brick Paving Inc. understands that every hardscape installation we complete is a reflection of our vision, expertise and experience. Most importantly, our brick paving installations reflect the vision of our clients. Your home is more than a major investment, it is also an expression of who you are. Our professionals have the expretise and experience to transform your outdoor living space into a showcase for years to come by optimizing structural integrity and aesthetics.
Pavestone is a ICP (Interlocking Concrete Pavement Institute) certified and a Unlock and Rochester Authorized Contractor. We can easily guarantee that our installations will be done according to manufacturer specifiactions and meet the highest industry standarsds. We have spent more than 24 years designing, planning and installing all types of paving and retaining wall projects. You can rest assured that we will pay close attention to each and every detail for your paving project.
The products from the manufacturers we work with, including Unilock and Rochester, are always changing.We will provide you with the latest samples, literature, pictures and examples of our available products for your new luxury outdoor living space. pavestone will also make outdoor display visits and "projects in progress" visits at any time to ensure proper materials selection and installation procedure. In addition, we will provide you with a full 3D Hardscape and landscape color rendering on your project.
Awarded Unilock Paving Contractor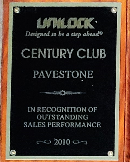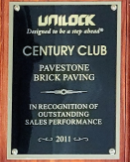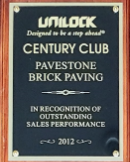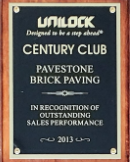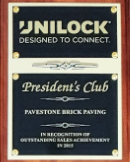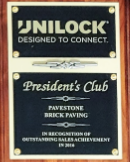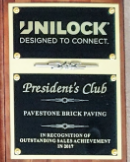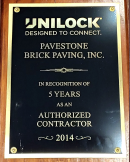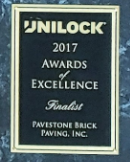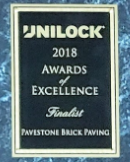 We offer our outdoor paver installation services in Chicago and across the Northwestern suburbs of Illinois
Hardscaping
Pavestone Brick Paving, Inc. is a family-owned hardscape contractor executing professional installations for homeowners and businesses in Des Plaines, IL and throughout the north and northwest Chicago suburbs. For our installations, we offer a wide selection of concrete and clay pavers as well as natural stone including bluestone, flagstone, and cultured stone. We will help you design your exterior living space and assist you in choosing the right paver for your project.
We are very proud to be doing our part to contribute to the sustainability of the environment by offering permeable pavers for residential and commercial installations. If you want to go green with your project, feel free to inquire about permeable paver installation.
Maintenance
Whether your hardscape inverstment icludes a small walkway, a large driveway, or a complete landscape project, Pavestone wants you to enjoy the benefits of your project to the fulliest. For the most part, rick pavers require no maintenance. However, certain environmental conditions may require some additional care and maintenance so that you can enjoy your outdoor living space for years to come. Feel free to inquire about our power wash and seal coat programs, along with our polymeric sand installations

We offer our outdoor paver installation services in Chicago and across the Northwestern suburbs of Illinois
We worked with Ricky at Pavestone to redo our 700+ square foot patio. From the estimate to project completion they were detailed, prompt, clean, and a pleasure to work with. Highly recommended; you can look us up in their reference book if you need a verbal testimony. We couldn't have been happier.
-Matt R.
Pavestone Brick Paving replaced our concrete walkway, and patio with pavers and a seat wall. Everything from the initial consultation to the project completion was done well, and on time. We were extremely pleased with every step of the project, and love the finished product.
-Larry S.
Their work and customer service is exceptional. Installed 19′ x 14′ patio with sea wall. Sales rep Sergio did excellent job offering constructive recommendations for patio, material, and colors. He maintained close contact thru whole process. Crews work was outstanding including clean up of property following completion.
-Robert C.
The wonderful craftsmanship Pavestone provided helped turn our underused space into a wonderful new backyard escape. If you are considering brick pavers, call Sergio and the Pavestone team. 5+ Stars!
-Paula S.
Nothing but absolute perfection… excellent customer service. Excellent work and price… even came back fo free to add on another 3 courses the day after I called them after job was complete…. I will use pavestone for all my future paving jobs. Rick was nothing but an excellent contractor.
-Joseph C.