Having a clean and well-maintained patio is not only aesthetically pleasing but also a necessity for living. Regular upkeep and cleanliness of your outdoor space can create an inviting and enjoyable oasis for relaxation, inviting guests, and spending quality time with family. An important task of this yearly ritual is to clean brick patios.
You may have successfully completed your paver installation project, but after a while, your pavers may not look as clean as they did before. Accumulated dirt, debris, or mildew can damage the surface of your brick patio over time. Twigs, leaves and other organic matter can decompose, leading to staining and discoloration of the brick surface. Thus, investing time and effort into cleaning the brick pavers is a worthwhile endeavor, even if it requires some time and effort.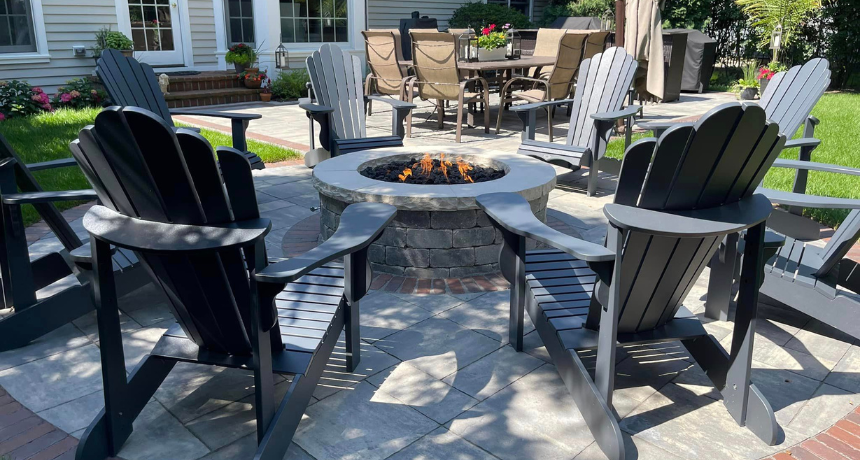 Before, we jump into the step-by-step process, here is the list materials that are required in order to clean paving bricks:
Materials and Tools Needed:
Bucket or a handheld sprayer
Stiff-bristle brush and a broom
Mild detergent soap and water
White vinegar, bleach or baking soda if required
Clean cloth
Rubber gloves
Table salt
Safety goggles or glasses
Face mask
Cleaning solution
Concrete sand
Steps on How to Clean Paving Bricks:
1. Outside weather check:
Start cleaning in fair-weather conditions. The ideal temperature to clean bricks is between 50- and 60-degrees Fahrenheit, preferably cloudy. Extremely hot or sunny weather will dry out cleaning solutions quickly and leave more residue stains.
2. Prep and clean the area:
Remove any potted plants or furniture that will come your way while cleaning the bricks. This will make it easier to move around and give you a clearer open surface. At this point, make sure to also cover your surroundings as the process will get messy.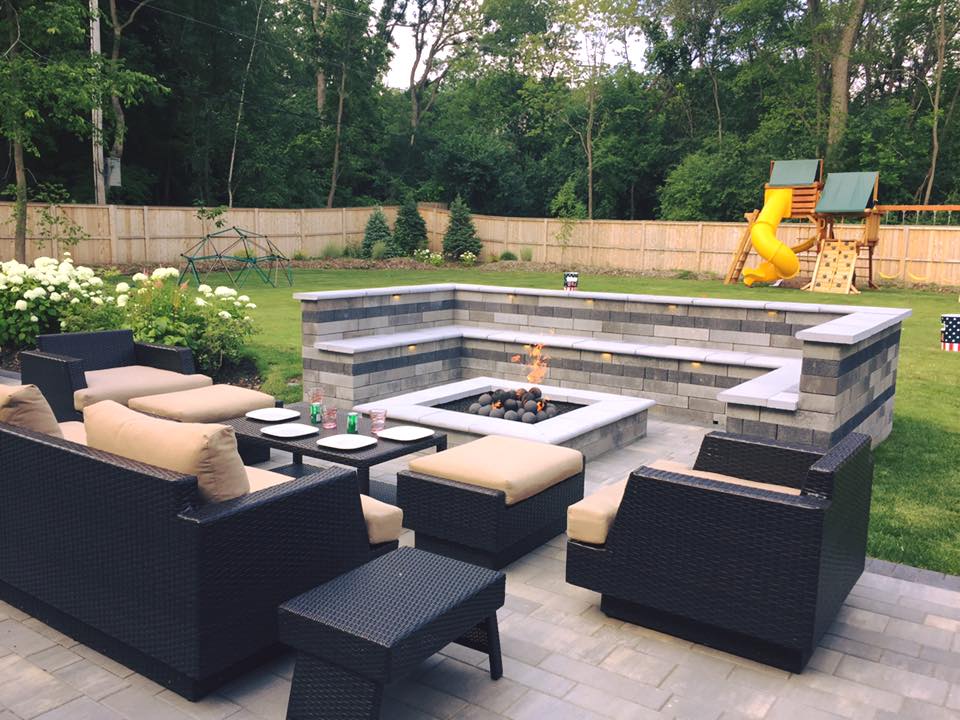 3. Remove weeds:
Next, use a soft-bristled brush or a broom to remove any dirt, leaves, or stones in between the brick pavers. The best way to get rid of unwanted weeds from patio seams, cracks, and walkways is by spraying herbicides. When you've removed all the weeds, use polymeric sand as a binding agent to fill paver joints which will slow down the growth of future weeds. Finally, vacuum or sweep away large debris or chunks of dust and dirt.
4. Saturate the surface:
Do not directly apply any kind of cleansing solution onto the dry bricks. Its texture is quite porous and can easily absorb materials, which can later discolor the brick. Start by spraying a water mist using any handheld sprayer of your choice. You can also use warm water and a sponge which removes a lot of grime. At this step, it is not required to power wash the bricks, the pavers just need to be a little wet, so they do not soak up the cleanser.
5. Prepare your cleaning solution:
Begin by identifying cleansing solutions based on what you need to get done. Are you doing an overall clean-up or just spot treating the stains? The safest cleanser is a mix of water with a mild detergent because it is easy to find at home and can easily tackle stains. This is the best way to clean the brick patio and can make it look fresh. To clean mildew, you need a mixture of white vinegar and water. For brick pavers that have algae or a greenish blackish hue from moss, bleach and water is required for the deep cleanup. Whatever cleansing solution you choose, start by pouring it onto the surface in small portions of the area. There are also several commercial brick cleansers available at any home improvement retailers or department stores.
6. Scrub the surface:
After applying the solution, scrub the pavers with a stiff-brittle brush. The harsh scrubbing from the broom bristles will loosen the sticky dirt and stains. You also need to make sure the sand between the pavers doesn't come off while scrubbing the surface. The wait time and duration for scrubbing depends on the type of cleansing solution you've chosen. Do not use any kind of steel brushes as it can scratch the brick.
7. Rinse the surface:
Once you've finished scrubbing, rinse the surface with clean water and a regular hose. If you decide to use a power washer, just be careful as it can cause more harm to the bricks. However, you can still use a low-pressure washer to remove those greasy stains. Do not let excess water linger onto the surface as it can cause mildew.
8. Re-Sand the joints:
This step is optional. Once the pavers have dried up, check if the sand in between the joints has not come out. If so, refill the space with sand again. Pour at least 1/3rd portion of the concrete or river sand onto the surface and brush it with a broom or a garden hose in order to get it settled between the pavers.
9. Moisten the new sand:
Once the sand is settled between the pavers, use a sprayer to mist water over it. This way the sand will not come out again. Avoid over-saturating the floor and let it dry for a day or two.
When Should you Call a Professional?
If you feel you aren't capable of this labor-intensive work, or just don't have enough time in your busy schedule, it's always a good idea to call the professionals. Pavestone has spent nearly 20 years designing, planning, installing, and maintaining brick patios for our clients. We hope you found these tips on cleaning brick pavers helpful. With a bit of prep work and washing methods, you can get your brick patio looking good in no time. If you find yourself wanting to expand your outdoor area, reach out to us at (847) 895 7004.