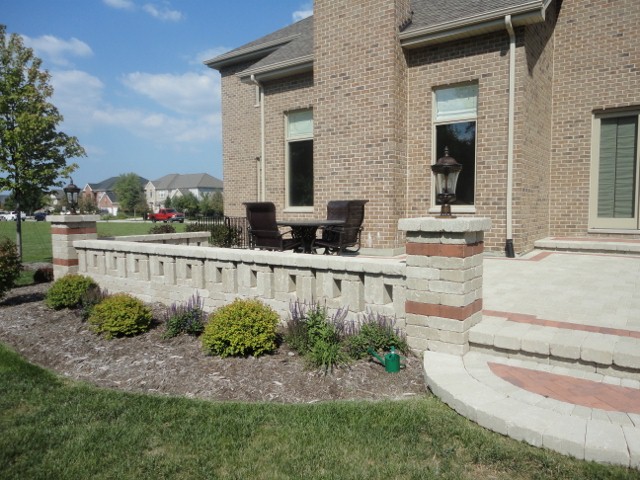 Pavestone Brick Paving, Inc. is a name you can trust whether you need brick paving for your home or business. We provide our customers with affordable pricing and professional brick paving workmanship. Recently, an increasing amount of Highland Park homeowners have contacted us regarding their brick paving needs. We helped them prepare for summer, and we can help you. Pavestone Brick Paving, Inc. is a family-owned company with almost 20 years planning, custom designing and executing all different kinds of brick paving projects; such as brick patios, walkways, driveways and retaining walls. At Pavestone Brick Paving, Inc., we do prize on respect, honesty and knowledge above everything else. It is these exact principles from which our company was built on. Before taking on any brick-paving project, we do take time to listen to our customers' specific ideas, needs and concerns. We strive to exceed their expectations for their new brick patio or brick driveway. We take the time to help you with each step of the way by going over in detail the different brick paving choices to match your budget.
Highland Park Brick Pavers
Highland Park, Illinois is a beautiful village that is home to over 33,000 residents. Many Chicagoland residents and businesses move to Highland Park each and every year. This is due to Highland Park's convenient location, just 20 miles north of Chicago and 18 miles from O'Hare International Airport. Highland Park's median family income is just about $138,000. Highland Park is also home to over 11,500 households, each needing home improvements. Among the most wanted home improvement is brick paving. Brick paving is an art all in itself. You can't trust anyone to pave your brick patio or driveway; you need a professional to do it for you. Pavestone Brick Paving, Inc. is the best company and the one Highland Park home and business owners are looking for in a professional brick paving company. We are the best at what we do, and that is why they give us a call for their brick paving needs. Since we opened, we have helped many Highland Park home and business owners improve their establishment's appearance with the addition of our brick pavers.
Highland Park Brick Walkways
At Pavestone Brick Paving, Inc. we perform a variety of brick paving services and specialize in paver installation. Whether for residential or for commercial, our pavers are ideal. With a wide selection of natural and cultured stone, we offer a range of brick pavers, concrete pavers and clay pavers unlike other brick paving companies. Above all others, we highly do recommend our Unilock and Belgard brick pavers. You can assume them to be idea, beautiful and reliable for all types of brick paving projects. No matter what type of brick paver chosen, our team will personally help you with the design of the perfect outside living space, brick patio or brick driveway. Best of all, our brick pavers will last a lifetime being virtually maintenance free. Now is the time to get the brick patio or driveway you have always desired to have. Call for more information about our brick pavers, or call if you have any questions about our brick paving services. We are looking forward to transforming the look of your home or business as to the way you want it.
Highland Park Brick Paving | Highland Park Brick Pavers | Highland Park Brick Patio | Highland Park Brick Driveways